Blender is becoming more and more popular in recent times. This program, is still being developed and upgraded, is becoming more and more advanced. So, you can ask yourself a question – is Blender for professionals advanced enough?

Probably a lot of people reading this article heard about Blender. Some of you may be even using it. However, at the beginning, I would like to introduce people who have not heard about it or who know something, but have never been using this software.
History
Blender is a free open-source program for modeling and rendering images, and also three-dimensional animation. Its distinguishing features are especially the unconventional user interface, as well as its own built-in game engine. The first version of Blender 1.0 was released in January 1995. At that time, the publisher of this software was the NeoGeo company. Since 2002, until now, it has been developed by the Blender Foundation. The main programmer is Ton Rosendaal, who was with Blender from the very beginning of the application.
Until 2002, the program was available for free. Fees were charged only for technical assistance or for the purchase of a software package with extensive documentation. After the acquisition of Blender by the Blender Foundation, it became free software under the GPL. As a curiosity, I can say that the amount of 100,000 euros needed to repurchase the program was collected as a public collection in just one week.
Since then Blender has been constantly developed, and its latest version is released in September 2017 version 2.79.
Features
Blender has one feature that other 3D software do not have. It is completely free. This is very important especially when you start working in 3d industry and you do not have too much budget to buy software. Additionally, it is available for all operating systems: Windows, Mac OSX and Linux. So when you're familiar with Linux and have one of the free distributions, your whole work environment, excluding hardware, you have absolutely free.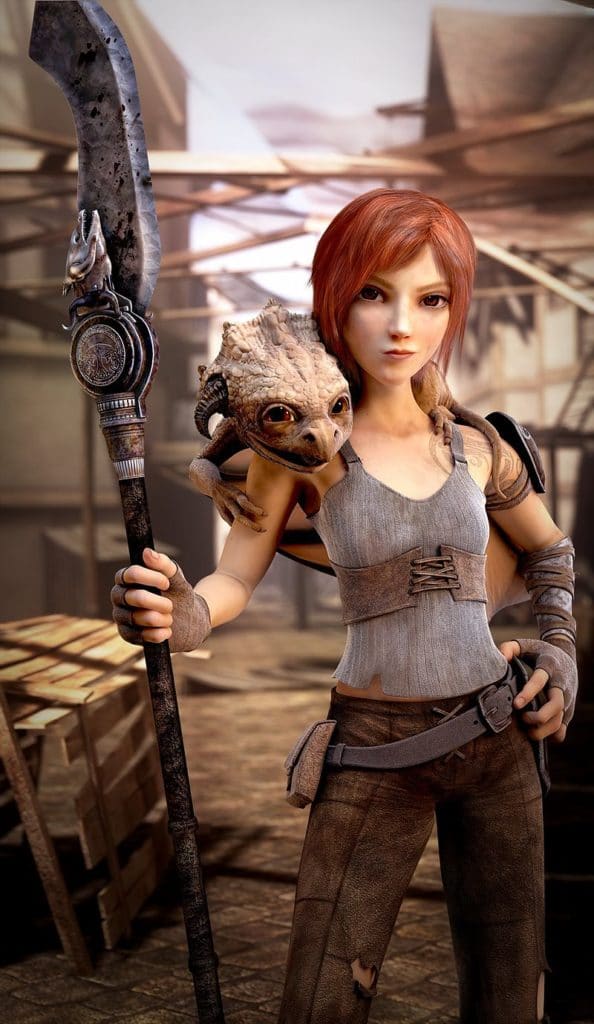 Cycles Rendering Engine
But of course, not only this works for the plus for Blender. It has become, in my opinion, a fully professional tool that can compete with paid applications for 3d graphics, such as 3ds max or Cinema 4D. Introduced in 2011, Cycles rendering engine will allow you to create incredibly looking images, at the level represented by, for exampler, V-Ray. This renderer has quite good global illumination support, support for GPU rendering, render layers, subsurface scattering, DOF, Motion Blur and many other interesting features. You can see the full list on the official cycles: https://www.cycles-renderer.org/about/
Another important thing to mention when using Blender is its customizable nature. You can change the entire interface so that it will be comfortable for you. Also the global interface appearance remains the same on all operating systems and does not have disruptive pop-up windows, which in other software can be a nightmare.
Blender also has a scripting system based on Python, as well as a large number of extensions that you can turn on with a single click. It is also a great animation tool. In in fact, in Blender many award-winning animations have been created, the level of which is really outstanding. When you see them and ask is a blender for professionals, you will answer that definitely yes. Among the tools available in Blender you will find many for VFX, composing, rigging system and even video editing tool.

Popularity
According to the official data provided by the Blender Foundation, Blender is becoming more and more popular every year. Within a month, over 500,000 unique downloads of applications are registered, and in 2017, 6.5 million were downloaded. This is twice as much download as compared to 2009. It can therefore be considered that the popularity of this 3d software is increasing from year to year, and the developers of paid applications can only drean of such a number of users.
Blender Assets
If you would like to learn how to use Blender, you can do it on its official website: https://www.blender.org/support/tutorials/
There are a lot of free tutorials available: from the basics to more advanced things such as character rigging. If you are already familiar with Blender, and want to save time and need 3d models, then I recommend that you visit the forblender.com website. There you will find many models made by CGAxis from various categories. After registration you will also receive a link to download the pack of 30 free 3d models.
It is also worth taking a look at some of the internet communities associated with Blender. An example of one of them is https://blenderartists.org/. You will find many interesting threads and get answers to questions related to this application. In addition to this site, there are also many other Blender sites connecting its users. You can read their list on the Blender Foundation's official website: https://www.blender.org/community/
Conclusion
Answering the question asked at the beginning: is Blender for professional? Personally, I will say that definitely yes. You may not be attracted to the style of how its interface works, or some of you may be confused about different worflow than in other 3d applications. But when it comes to the final effect of work, it does not deviate in any way from other 3d programs.