Nice quality 3D models are the basics of a 3d artist work.
A large amount of them is especially useful when you're creating 3d visualizations or making architecture jobs.
It gives your creation more realistic look. However, making them yourself may be too time-consuming, especially when the deadline is soon. That is why it is worth asking yourself – how to download 3d models easlily?
The first solution that comes to your head is the usage of free models.
You can of course find them on the internet, but it can also be extremely difficult. Downloaded model may turn out to be incomplete or not usefull at all. Of course, there are also good quality models that are available for free. For example, on free.cgaxis.com, you can download 3d models for free, but sometimes you will not find the stuff you need.
Another option is to purchase individual models on many available 3d marketplaces.
At cgaxis.com, we have almost 4,000 3d models from various categories, available at reasonable prices. With this solution you can find exactly the product you are looking for or at least very simillar.
In addition to purchasing individual models, you can also choose to purchase the entire collections of them. If you look at it from the financial side it will come out much cheaper than individual models. On the other hand, you may be in a situation where you really do not need all the models that are available in the collection. So you have a dilemma whether to buy it in set, hoping you will use rest of the models in the future, or decide to buy individual products.
We would like to introduce you a third option: CGAxis Plans.
It combines the advantages of both solutions. Thanks to plans you get access to all 3D models and HDRI maps available on cgaxis.com but at the low price. The payment for access is fixed and cyclical – like, for example, on Netflix. With Plans you will have an option to download the model you are interested in immediately. You can also cancel the subscription without any restrictions at any time.

Three types of plans are available:
Standard – paid monthly for $39 allows you to download 50 models per month (50 credits).
Professional – paid monthly for $49 allows you to download 100 models per month (100 credits).
Unlimited – paid once a year for $349 and has no limits on the number of downloads.
The purchase process:
If you would like to take advantage of such a solution and decide to purchase one of the plans, go to the: https://cgaxis.com/all-access
Then select the type of plan you are interested in and click 'Subscribe'. You will then be redirected to 'Checkout' where you will enter all the necessary billing data and set up an account at cgaxis.com. After payment just log in to your account. And that's actually all. Now on every single model you will have 'Download Now' options. From this time you can start download 3d models while browsing the site.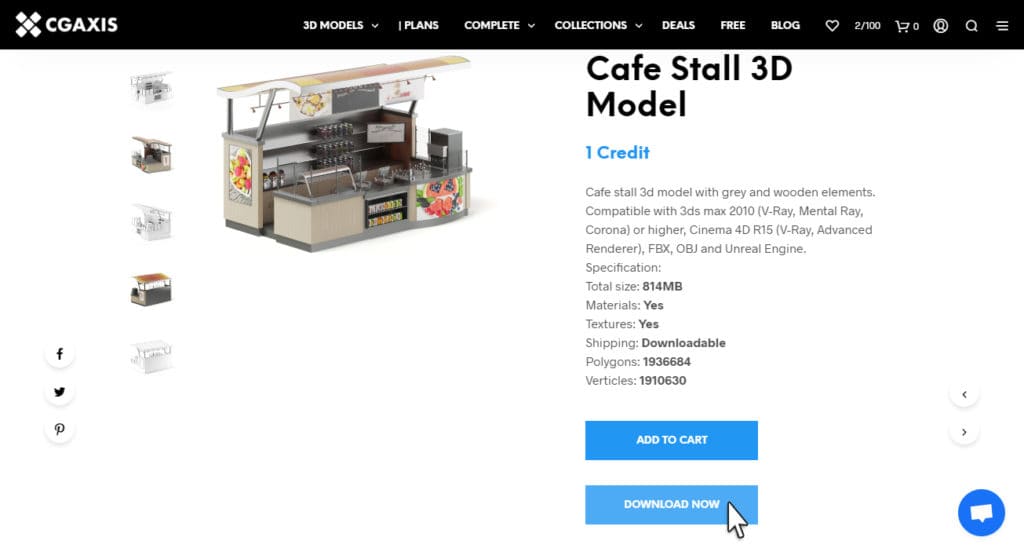 Downloading any 3d model or HDRI map is 1 credit. You can see the number of available credits in the header at the top of the page.
You can download 3d models several times does not reduce the number of credits. So you can choose what you currently need for your project. Each 3d model also has all file formats inside it – for 3ds max, Cinema 4D or FBX, OBJ.